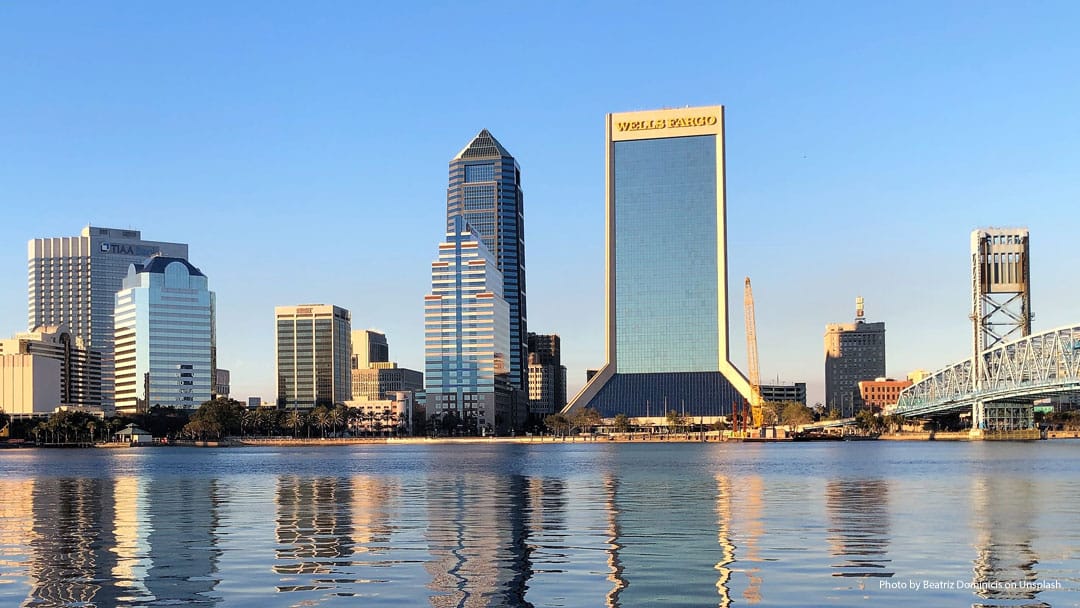 Your Guide to Finding Jobs in Jacksonville, Florida
Navigating the job market can be a daunting task, regardless of the location. But when you're zeroing in on a specific area like Jacksonville, Florida, you'll want the inside scoop to make your job hunt as seamless as possible. Fortunately, we've got you covered
Understanding the Jacksonville job market can help job seekers find positions they love. That's why Hiregy has put together this guide. It's an introduction to working in Jacksonville, and focuses on current opportunities, thriving industries, and effective job-hunting strategies. From an overview of the economy to projections for the future, we've gathered all the essential information for anyone seeking jobs in Jacksonville Florida.
Overview of Jacksonville's Economy
Jacksonville's economy is diverse, combining both traditional sectors like transportation and newer ones like tech startups. Here's a quick overview:
Port Powerhouse: The city's port is one of the largest in Florida, providing a vast array of jobs in Jacksonville Florida related to shipping, warehousing, and transport.
Tourism and Recreation: Jacksonville's beaches, parks, and cultural events attract tourists year-round, fueling jobs in hospitality, event management, and retail.
Growth in Tech: Over the past decade, Jacksonville has seen a surge in tech companies and startups, boosting the demand for tech professionals.
When searching for Jacksonville Florida jobs hiring, it's wise to consider industries that are foundational to the area's economy.
How is the job market in Jacksonville, Florida?
The market for Jacksonville Florida jobs is thriving. Unemployment rates have dipped below national averages, presenting a positive picture for those looking for jobs in this area. The city boasts a diverse economy, hosting companies across various sectors, and offering a range of opportunities for both entry-level candidates and experienced professionals.
Many companies are expanding their workforces, adding to the city's job growth. Jacksonville's tech scene has seen substantial growth, with many startups establishing headquarters in the city. Overall, the job market is dynamic and filled with potential, presenting a great environment for career growth and rewarding opportunities.
Who are the largest employers for jobs hiring in Jacksonville, Florida?
The U.S. Navy, healthcare systems, and financial institutions such are some of the largest employers in Jacksonville. For those searching for jobs in Florida, Jacksonville, and the surrounding area, these organizations offer a multitude of options.
The Navy, through the Naval Air Station Jacksonville and Mayport Naval Station, employs thousands of military and civilian personnel. Baptist Health, one of Florida's most comprehensive healthcare systems, provides myriad opportunities in medical and administrative fields. Large financial institutions such as Bank of America's extends opportunities in areas such as finance, customer service, and information technology.
What are the top industries for jobs?
Jacksonville has always been a melting pot of industries. Over the years, certain fields have shown remarkable growth, making them top picks for job seekers. Top industries include healthcare, finance, and defense. Also, the city's strategic location on the Atlantic coast lends itself to robust logistics and transportation sectors.
Healthcare: The healthcare industry, with leading players like Baptist Health and Mayo Clinic, offers numerous opportunities for jobs in Jacksonville Florida. With several prominent hospitals and healthcare centers, Jacksonville boasts numerous opportunities for doctors, nurses, medical technicians, and healthcare administrators.
Finance and Banking: The finance sector, including banking and insurance, employs a significant workforce, with giants like Bank of America and Florida Blue. Home to numerous banks, credit unions, and insurance companies, Jacksonville offers a robust market for financial professionals.
Logistics and Transportation: Being a significant port city, Jacksonville has a considerable demand for logistics coordinators, drivers, and warehouse managers.
Technology and IT: As in most major cities, tech roles such as software developers, IT managers, and cybersecurity specialists are in demand.
Acquiring skills tailored to these industries could provide a strategic advantage in your job search.
What does future growth look like for jobs in Jacksonville Florida?
The future growth in Jacksonville Florida jobs looks promising. Over the next decade, the job market is expected to grow by 44.4%, outpacing the US average of 33.5%. Key growth industries include tech, healthcare, and green energy, aligning with national trends towards digital innovation, an aging population, and sustainable practices.
Several indicators suggest continued growth:
Diversification of Industries: Jacksonville is not reliant on a single industry. This diversification provides stability and resilience against economic downturns.
Infrastructure Development: Continued investment in infrastructure, especially in transportation and tech, indicates a positive trend for job growth.
Growing Population: A steady influx of residents, both from within the U.S. and internationally, means a growing demand for services and, consequently, jobs.
Educational Centers: The presence of universities and colleges ensures a consistent flow of fresh graduates, fostering innovation and startup culture.
For job seekers, the projection is clear: the quest for Jacksonville Florida jobs hiring is promising, with numerous opportunities on the horizon.
What are the average salaries for different professions in Jacksonville, Florida?
Salaries in Jacksonville vary widely depending on the industry and level of experience. In 2023, the average salary in Jacksonville has been around $50,000 annually. However, specialized professions often earn more.
How do I find jobs in Jacksonville, Florida?
There are multiple ways to find jobs in Florida Jacksonville. Working with a staffing firm like Hiregy can streamline your job search in Jacksonville, Florida. Recruiters can match your skills with potential employers and guide you through the application process, helping to increase your chances of landing a job. Moreover, recruiters often have relationships with local companies and can provide insider knowledge about the corporate culture, aiding in finding the right fit for you. In addition, they often know about open positions that aren't posted elsewhere, and they are paid by the employer, so their services are usually free to job seekers. Online job boards and company websites may also have career sections where they post job vacancies. In addition, networking events, both physical and virtual, can be excellent avenues to discover potential employers and make valuable connections.
How can I present myself as a top candidate for a Florida Jacksonville job?
The best way to get the jobs in Jacksonville Florida that you want is to make sure you have the relevant qualifications and experience, and to present them clearly in your application. Continuous learning and upskilling should be an essential part of your strategy. Consider enrolling in courses, either online or at local institutions like the University of North Florida in Jacksonville to ensure your skills remain current. Certifications in emerging technologies or specializations can distinguish you from other candidates.
Moreover, showing a genuine interest in the hiring company and its mission can be compelling to potential employers. Research the company you're applying to, understand its values, and be prepared to articulate how your skills and goals align with its culture during the interview process.
Showcase your soft skills, such as communication, teamwork, and problem-solving, as these are universally valued by employers. Finally, emphasize your adaptability and eagerness to learn, as these traits demonstrate your capacity to evolve in a rapidly changing job market. Your ultimate goal should be to present yourself as a valuable asset who can contribute to a company's growth while also growing personally and professionally.
Is Jacksonville a good place to live?
Beyond job opportunities, Jacksonville offers a high quality of life. It has a lower cost of living than the national average, and Florida has no state income tax, which can mean more take-home pay. The city is home to beautiful beaches, cultural attractions, sports events, and vibrant nightlife. The climate is typically warm and sunny, which is perfect for outdoor activities year-round. The public school system is robust, and there are several colleges and universities for higher education.
Jacksonville, Florida, offers a strong job market, diversity in employment, and an appealing lifestyle. The city's strong economic growth, combined with its cultural amenities and desirable climate, make it an attractive destination for job seekers from various industries.
Jacksonville's diversity is also reflected in its workforce, which is a mix of young professionals, military personnel, medical professionals, and corporate employees. This blend creates a dynamic, vibrant environment that adds to the appeal of working in Jacksonville.
Moreover, the relatively lower cost of living than other comparable U.S cities is a bonus. Affordable housing, in conjunction with competitive salaries, ensures a comfortable lifestyle.
On the leisure front, Jacksonville is hard to beat. It's a haven for outdoor enthusiasts, with stunning beaches, extensive park systems, and numerous golf courses. There are also many cultural attractions like museums, art galleries, and music festivals that cater to diverse interests.
Advice for Moving to Jacksonville for Work
Relocating for a job is a significant decision. If you're contemplating making the move to Jacksonville, here are some pointers to help smooth your transition:
Research the Area: Understand which parts of Jacksonville are close to potential workplaces and have the amenities you require.
Networking: Before relocating, try to attend local Jacksonville job fairs, industry events, or networking meetups. They can give you a head start in your job search.
Cost of Living: Jacksonville offers a mix of urban and suburban lifestyles. Research the cost of living in different neighborhoods to find a place that fits your budget.
Local Nuances: Every city has its unique culture and vibe. Familiarize yourself with local news, events, and community groups to quickly feel at home.
Always remember to look out for Jacksonville Florida jobs hiring as companies regularly post openings catering to incoming professionals.
Jacksonville Florida offers a dynamic job market ripe with opportunities across various sectors. Whether you're beginning your career, looking for a change, or planning to advance, the Jacksonville Florida job market offers an array of opportunities in a city where there is always something to explore.
_________
To learn more about available jobs in Jacksonville Florida that are suited to your needs, contact the Hiregy team today.