We are living in unprecedented times right now and clients are opting to interview potential candidates virtually for their organizations.  Below are helpful tips to remember to prepare for your next virtual interview.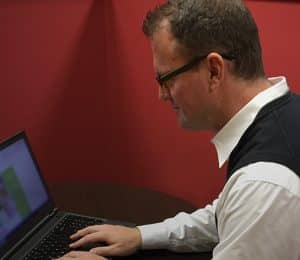 1. Test your Technology – Whether it be through Zoom, Google Hangouts, or Facetime, be sure you have your technology ready to go.  Check your internet connectivity, as well as ensure both your camera and microphone are working properly.  This will help prevent any delay or disruption with your virtual interview.
2. Be Aware of Your Surroundings – As with testing your technology, you want to be sure that you check your lighting as well. Use a room that is well lit and with no visible distractions. (Choose a quiet, tidy space where you can focus on the interview). Be sure to keep your camera at eye level and maintain eye contact.  Avoid moving the camera or standing/walking/moving around while on a virtual interview.
3. Prepare for Your Interview – Remember to do your research on the company you are interviewing with and be prepared with questions. Have a full understanding of the position you are interviewing for as well.  Make sure you have a copy of your resume in front of you to discuss your experience and do not look up information online while you are in your interview.
4. Dress the Part – Although this is a virtual interview, you want to be sure that you are dressing the part. Dress as you would for an in-person interview with the organization. This is your opportunity to make a first impression on a hiring manager – you want to be at your best!
5. Follow Up – Be sure to follow up with a thank-you email within 24 hours of your interview. This is a great opportunity for you to show your interest in the position and share what you could bring to the role.
Keep in mind that a virtual interview is just as important as a face-to-face interview, especially in these uncertain times.  You want to present your best you!
Hiregy is a professional recruiting and staffing agency serving Tampa, St Petersburg, Orlando and surrounding areas. Keep up with Hiregy online at hiregy.com, and stay in touch on Facebook, Twitter, and LinkedIn.