If you are looking for a job in Orlando and have never used the services of an Orlando staffing agency before, you may have some questions. As with all industries, details vary from company to company. The main goal remains the same, however, and that is to match candidates to the right jobs. Below we have answered a few of the most frequently asked questions we hear from our clients and job seekers to help you in your decision to seek employment through an Orlando staffing agency.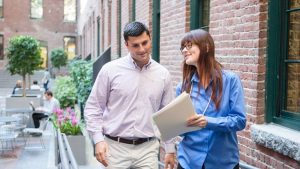 What should I bring to an interview with an Orlando staffing agency?
Although you will have most likely already sent your resume through to your Orlando recuiter, it is a good idea to have a hard copy on hand, as well as a list of references and any licenses or certificates you may have. Coming equipped with a professional, positive attitude can't hurt either.
How should I dress?
As with any other interview, you want to look your best when your visit your Orlando staffing agency. Put your best foot forward. Dress up, never down.
How does applying for a job through a staffing agency work?
There are a couple of different ways. Some candidates may apply directly to a specific job in Orlando. After the interview with the Orlando staffing agency, if you match the job description's qualifications, your recruiter will submit your resume and a description of your experience to the hiring manager for the job in Orlando. If the hiring manager is interested, a phone or in-person interview with that hiring manager will be arranged. Other candidates may submit their resumes without interest in one specific job. In this case, the Orlando recruiter will match your qualifications with any jobs that the staffing agency might have on hand.
What identification do I need?
You will need no specific identification for an initial interview with a staffing agency. Upon placement, you will be required to show a few forms of identification, which your recruiter will walk you through.
How much is the Orlando job paying and what is the company's name?
Both very important questions which will be answered in the in-person interview with your Orlando recruiter. Pay scale can depend upon qualifications and experience.
Have any other questions about the process of working with a staffing agency? Please contact us.
Hiregy is professional recruiting and staffing agency that serves the Central Florida region, including Orlando and surrounding areas. Keep up with Hiregy online at hiregy.com, and make sure to check us out on Facebook and LinkedIn.